e-Detailing
Australasia's leading e-detailing provider, Not Right Now! makes intelligent use of internet technology to improve communications between your brand and your target audience. Delivering communication tailored to your specific marketing objectives, Not Right Now! is a powerful and flexible addition to your marketing mix.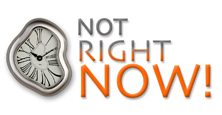 Designed for the 21st century, Not Right Now! understands the needs of the aspiring product management team. What other medium offers such rapid deployment, real-time reporting, automatic segmentation, total control of message, fully-integrated tracking AND performance-based pricing?
Not Right Now!
Born from extensive face-to-face doctor consultation, Not Right Now! understands and respects a doctor's right to decide how and when to interact with the pharmaceutical industry. As one doctor told us…"it's not that I don't want to hear the message, it's just Not Right Now!" You get the idea.
Marketing applications
The marketing applications of Not Right Now! are numerous. We group them broadly as follows:
e-details:

branded, promotional interactive sessions. Optional market research modules.

e-boards:

Virtual Advisory boards. Avoid diary juggling and ego-dynamics.

e-learning:

unbranded, knowledge-tested disease-state sessions.
Having worked in the pharmaceutical industry themselves, our people understand the issues you face in trying to build your brand. To get a better idea of how Not Right Now! can accelerate this process, contact us or visit www.notrightnow.com.au for more information.